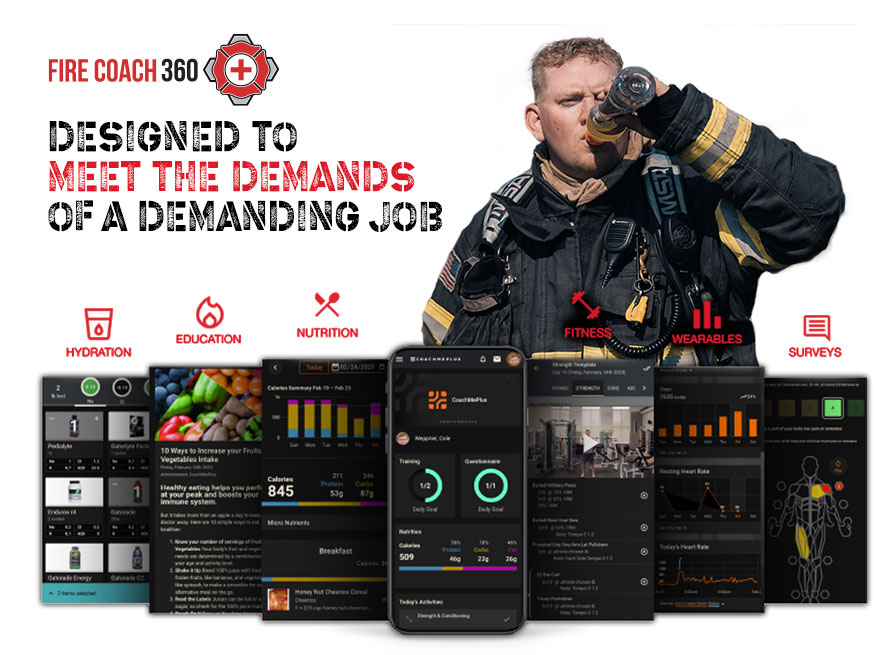 Providing Firefighters a critical 'Size-Up' for Optimal Health and Performance
Fire Coach 360 aims to be a trusted partner with firefighters, providing them with a 360-degree holistic approach to health and fitness. We equip firefighters with the knowledge, tools, and motivation to prevent injuries, optimize their physical and mental well-being, and achieve peak performance, enabling them to serve their communities with excellence and longevity.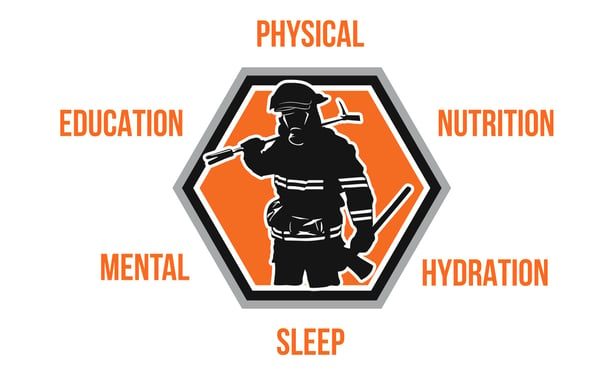 Fire Coach 360's

Six essential domains for firefighter readiness
Our holistic model for firefighters includes a 360-degree size-up of these critical areas for readiness, ensuring users are fully equipped to face any challenge head-on (both on the job and off), maintaining peak performance and safeguarding overall health.
With personalized workout plans tailored to your needs, you'll build strength, endurance, and agility, ensuring you're always ready to tackle the toughest challenges and reduce injuries.
Personalized meal plans tailored to meet your nutritional needs. From balanced meals to quick snacks, you'll receive guidance to optimize your dietary intake, promoting energy, and overall well-being.
Through daily check-ins, to meditation, stress management techniques, and cognitive exercises, you'll develop resilience and mental clarity, equipping you to overcome the demanding nature of your profession.
By tracking sleep patterns and providing expert tips, Fire Coach 360 helps you optimize your rest, ensuring you wake up refreshed and ready to face the day's challenges.
Provides vital information and reminders to ensure firefighters maintain optimal hydration levels throughout the day. With proper fluid intake and receiving timely reminders, firefighters can reduce the risk of dehydration and its associated complications.
Continual education is vital to staying ahead, just as a firefighter always learns and adapts. Fire Coach 360 provides educational resources, including articles, videos, and expert advice, covering the latest research on health, fitness, and more.
Are you putting the 'WET STUFF IN THE HOT STUFF?'
Discover the benefits of our 'Hydration Station': A professional grade scale designed to track hydration levels at the start and end of every firefighter's shift.
- Monitors fluid loss
- Replenishes electrolytes
- Aids in injury prevention
- Builds healthier firefighters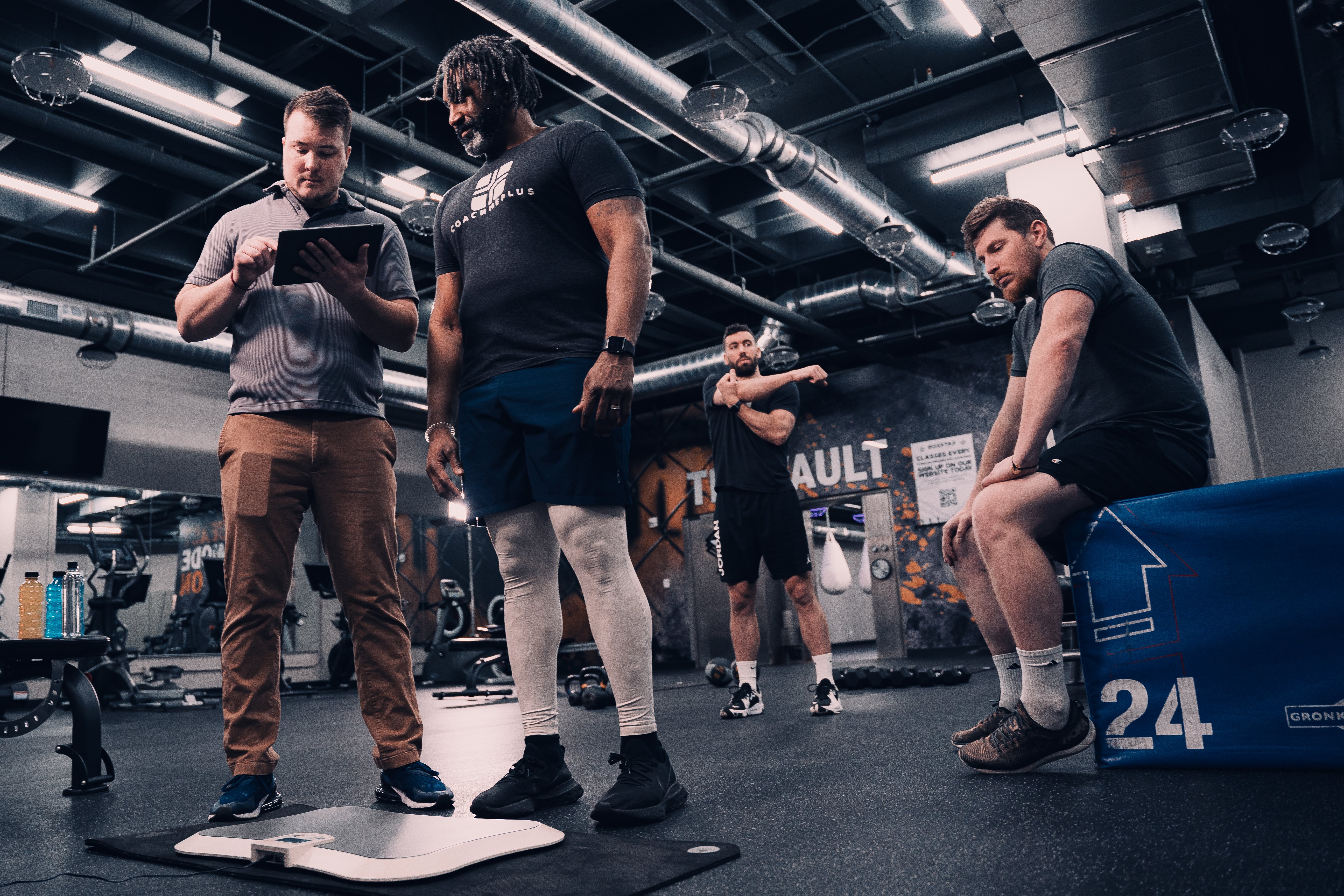 'How' Fire Coach 360 makes a difference.
Like a firefighter's scene size-up, our app ensures you're fully equipped to face any challenge head-on, maintaining peak performance and safeguarding your overall health.
Pre-Prevention

Customizable

Costs of Sacrifice

Big Picture Statistics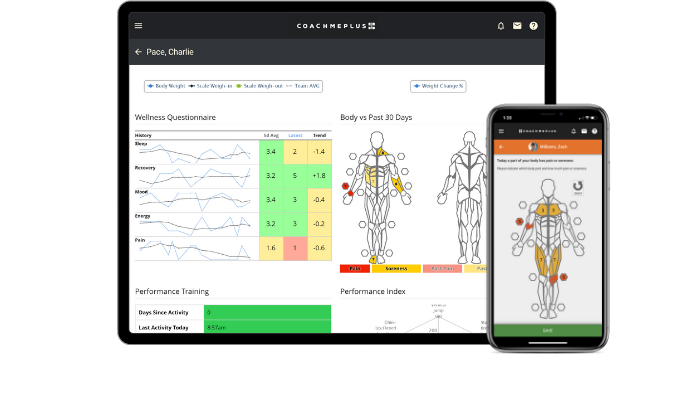 Spot the warning signs before they 'flashover'
Accountability starts here. Daily wellness questionnaires track physical and mental readiness that can be the difference between life or death. Protect your firefighters from the pre and post fire dangers that they face in the line of duty with customizable surveys and questionnaires.
Fit for your Firestation: Create your own workouts or use guides from our experts
FireCoach360's robust library of modules, products and exercises create a highly customizable experience based on the needs of your firestation. Download a program from one of our Subject Matter Experts, create from scratch from your team of in-house trainers, or do a combination that works best for your agency.
NFPA Reports a cost of

$44,800

per non-fireground injury.
That figure rises up to$134,000 per fireground injury, and $5.1 billion dollars annually. That's lost manpower, hurt moral, a family at home impacted, and a reallocation of your budget and resources to make up for the loss. Are you doing everything you can to prevent even one of these injuries?
Firefighters are only fighting fire

5%

of the time.
What are you doing to help their health the
other 95%

of the time?

FireCoach360's 6 domains of health and wellness prepare and restore your firefighters during all of the time they spend away from fire incidents.
Frequently Asked Questions
More about FireCoach360
How did FireCoach360 start?
Fire Coach 360 is powered by CoachMePlus, who has worked in the professional/collegiate sports space before expanding into Military and Tactical athletes. After partnering with the U.S. Military to track human performance, we uncovered a similar need in the firefighter space. Using the knowledge of our group of advisors, we designed a firefighter-specific human performance platform, FireCoach360.
What does Fire Coach 360 provide for first responders?
Picture this: just like firefighters do a 360-degree scene size-up, Fire Coach 360 takes a thorough look at your physical, mental, hydration, nutrition and overall fitness (sleep). Best part, it reduces the amount of apps needed to track all this information and combines them all in one package.
How does Fire Coach 360 stay updated on the needs of firefighters?
FireCoach360 is advised by a counsel of leaders in the firefighter arena, including current and former chiefs, volunteers and researchers that account for more than 100 years of experience in the field. Inotherwords, fellow warriors.
How do I use Fire Coach 360 in my station?
Fire stations using FireCoach360 are guided through their installation by a dedicated support rep who can add, adjust and configure your application so that it best suits the needs of your firefighters.
Meet with the Team
Let us show you how FireCoach360 will meets your needs!